Tired but happy after a day and night of live broadcast
On December 14 at 10.00, a 24-hour live broadcast of radio started from a glass cage on campus. Radio K, a branch of LOK, the student association at the School of Education and Communication, organized the event together with the Student Union to raise money for Musikhjälpen (Music Aid), which this year has the purpose "For a world without child labor".
The day and night included many different activities such as interviews with relevant people, live music, music quizzes, standup, competitions and auctions. Next to the glass cage on campus, a Christmas market area was arranged where associations and committees from Jönköping Student Union had lotteries and activities, Erikshjälpen was also there to inform about their work against child labor, both inside and outside the cage.
"I personally think that the best part has probably been the great commitment from all other students, both those who are involved in associations, and other students, but also the interesting guests and meetings we have experienced on campus and in our cage. And of course, that we got to talk to the host Brita Zackari live from the real Musikhjälpen last night," says Oliver Eriksson, President of Radio K.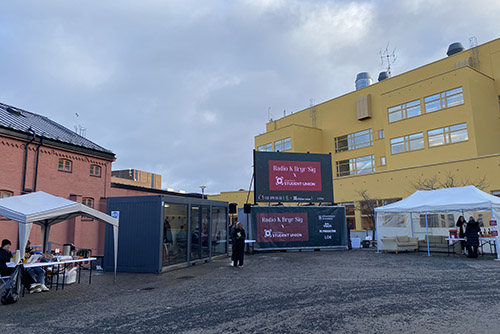 Right now, the event "Radio K Bryr Sig x Jönköping Student Union" has raised SEK 30,890. That is money from donations and some of the Christmas market sales yesterday. Later today, the money from about 50 auctions and the remaining money from sales will be deposited. How much the final sum will be, we will know on Sunday evening when Musikhjälpen ends and the fundraiser closes. Here you will find the event's fundraiser at the Musikhjälpen webpage.
External link, opens in new window.
"We would like to thank all students for their commitment and interest, the Student Union and the project manager, whose collaboration is the decisive factor in why we were able to scale up our event this year. We also want to thank Jönköping University for all their support, both with practical things and with marketing our event," says Oliver Eriksson, President of Radio K.
The live broadcasting event from the glass cage on campus to raise money for Musikhjälpen was also noticed by the local press. Among others, P4 Jönköping and SVT Jönköping were on site to report from the event.