Congratulations to all newly graduated students
On Friday 11 June, the last graduation ceremonies were held for the students graduating from Jönköping University (JU).
The School of Engineering (JTH) was the first school with its graduation ceremonies held on 4 June. Friday 11 June, the School of Education and Communication (HLK) and the School of Health and Welfare (HHJ) had their graduation ceremonies. Jönköping International Business School (JIBS) divided its graduation and had it both on Thursday and Friday.
Congratulations to all the graduates and good luck in the future!
The schools have also distributed various scholarships to students, see the drop-down lists below.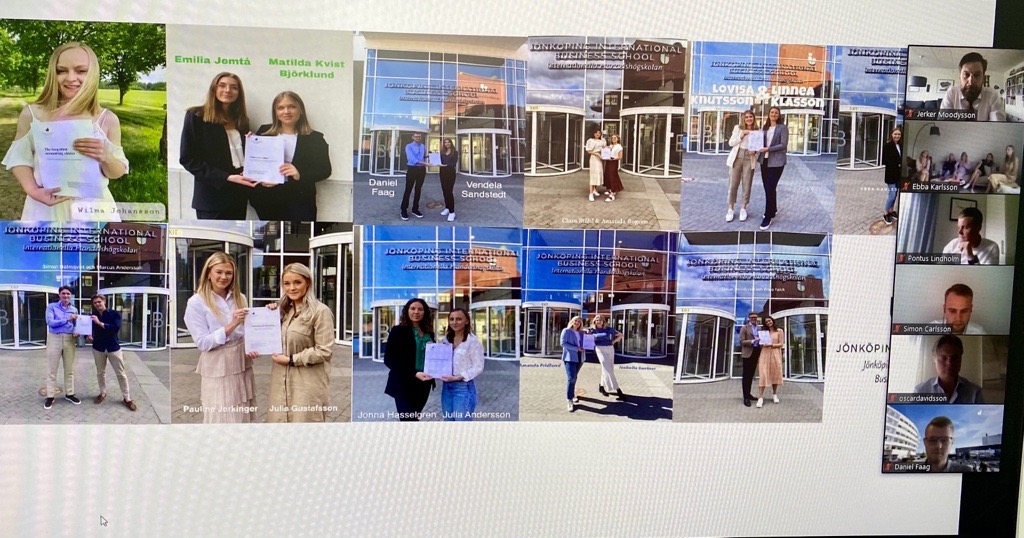 JIBS
JIBS Honour List 2021 – Top 5% - presented in alphabetical order


Civilekonomprogrammet 4 recipients
Simon Burman
Anton Joakimsson
Ebba Karlsson
Clara Ståhl
International Economics 2 recipeints
Pontus Bard
Magnus Tingvall
International Management 4 recipients
Veronica Barta
Lovisa Lindgren
Elsa Sidemo
Louise Winstrup
Marketing Management 2 recipients
Linnea Hallgren
Hannah Kyller
Sustainable Enterprise Development 2 recipients
Emelie Ramsö
Sam ter Woort
Engineering Management 3 recipients
Hatem Ahmed
Lina Ek
Sanna Ström
International Finanical Analysis 2 recipients
Jingxin Liu
Zhou Zhou
International Marketing 4 recipients
Madlen Falk
Sarah Frass
Sidney Celine Hansmeier
Viktoria Maria Nömer
Digital Business 2 recipients
Lea Sophie Lindemann
Marcel Wiegand
International Logistics and Supply Chain Management 2 recipients
Thomas Nickel
Imke Wagenknecht
Global Management 1 recipient
Stella Alice Gisela Heuer
Strategic Entreprenurship 1 recipient
Jennifer Sturedahl
Economic Analysis 1 recipient
Illana Ferreira Azevedo
JIBS Rising Star awards och Best thesis offentliggörs senare.
HHJ
Stipendier Hälsohögskolan
Bästa uppsats (5 000 kr/uppsats)
För bästa uppsats inom socialt arbete: Frida Andersson och Hannah Svanteman.
För bästa uppsats inom Omvårdnad: Shukria Adil Omer, Emelie Nero, Amanda Svendsen.
För bästa uppsats inom Arbetsterapi: Annie Bengtsson, Julia Forsander.
Bästa studieresultat (5 000 kronor)
Pristagare: Tandhygieniststudenten Martina Gunnarsson.
Motivering: "För genomgående utmärkta studieresultat genom hela utbildningen".
Utdelare: Region Jönköpings län, Rachel de Basso.
Bästa uppsats i radiografi (3 000 kronor)
Pristagare: Linnea Bodare och Sebastian Alfelt för uppsatsen: "Röntgensjuksköterskors upplevelser av sin roll i covid-vården - en intervjustudie".
Prisutdelare: Berit Møller Christensen, Svensk förening för röntgensjuksköterskor.
Årets HälsoIT och Årets pedagogiska pris (blommor och diplom)
Årets HälsoIT: Isabella Gigante.
Årets pedagogiska pris: Anna Johnsen.
Utdelare: Ordförande i Hälsosektionen, Erica Karlsson.
Utmärkelser Arbetsterapeutprogrammet (blommor och diplom)
Årets student, Arbetsterapeutprogrammet: Amanda Johansson.
Årets VFU-handledare, Arbetsterapeutprogrammet: Mattias Sundkvist.
Årets lärare, Arbetsterapeutprogrammet: Therese Jonson.
HLK
Medie- och kommunikationsvetenskapliga programmet
Bästa kandidatuppsats
Saga Andersson och Cecilia Lindquist 1 000 kr. vardera.
JTH
Stipendiegivarna och stipendiaterna
Bertil och Britt Svenssons Stiftelse för Belysningsteknik, 3 x 5 000 kr:
Nathalie Olsson, Hanna Pettersson, Isac Sanderberg.
Hidealite, 5 000 kr: Isac Sanderberg.
Elgiganten Logistik AB, 2 x 10 000 kr: Hanna Enerbäck, Amanda Jägsell.
Saab AB, 2 x 4 000 kr: Mustafa Alhaj, Johan Carleklev.
Sveriges Ingenjörer, 3 000 kr: Murtadha Al-Shammari.
Tekniska föreningen i Jönköping, 4 x 5 000 kr: Olov Lundgren Kuosmonen, Lola Naraha Jönsson, Jesper Karlsson, Martin Eriksson.
Telia Company, 2 x 4 000 kr: Tim Paulsson, Pierre Fondelius.
Jönköpings läns byggmästareförening, 5 x 4 000 kr: Anton Gustavsson, Nina Lever, Rebecca Lennéer, Jakob Uvesten, Elin Karlsson.
Consid, 15 000 kr: Josefin Lindvall.
Smålands Produktivitetsförening (SmPf), 2 x 5 000 kr: Andreas Blixberg Caldana, Filip Kroon.
Stora Enso Packaging AB, 2 x 5 000 kr: Felicia Borg, Elin Andersson.
Landskaps-& Markkonsult Kenth Henriksson AB, 2 000 kr: Natalie Drotz.
LogPoint South Sweden, 2 x 5 000 kr: Frida Olofsson, Lisa Rylander.
Södra Munksjö Utvecklings AB, 2 x 5 000 kr: Isabella Ståhl, Rebecka Ståhl.
Toxic Interactive Solutions, 10 000 kr: Inte utsedd än.
BSV arkitekter & ingenjörer AB, 5 000 kr: Lukas Johansson.
JTH:s hållbarhetsstipendium, 2 x 5 000 kr: Felicia Borg, Elin Andersson.
TKL logistics AB, 2 x 10 000 kr: Klara Volmerdal, Johanna Bladelius och 15 000 kr: Malvina Sandberg.
ValueOne, 2 x 5 000 kr: Filip Kroon, Andreas Blixberg Caldana.
JTH, Bästa presentation på Xjobbsmässan, 10 000 kr: Mohammed Elnourani Abdelmageed och Filip Skärin.
Science Park, Bästa affärspotential på Xjobbsmässan, 5 000 kr: Christian Rosgren, Erik Nyqvist.
JTH, Publikfavorit på Xjobbsmässan, 5 000 kr: Irene Ramos Lapesa.