Books
Sage Handbook on Family Business
The SAGE Handbook of Family Business captures the conceptual map and state-of-the-art thinking on family business - an area experiencing rapid global growth in research and education for the last three decades.
Theoretical Perspectives on Family Businesses
Family business has become an increasingly studied field over the last decade and forms one of the fastest growing research areas today. The uniqueness of family businesses is the interaction between two systems; the family and the business systems, leading to specific characteristics that we rarely see in other types of businesses. In order to understand the interaction between the family and the business systems, researchers have adopted a diverse range of theories from different fields.
Read more »
External link, opens in new window.
An Alternative Approach to Family Business
This insightful and innovative book proposes a new theory of socio-material weaving for studying and understanding family business. It dissolves the family business into activities, constituted of the sociality of human interactions and relations and interwoven with materials that extend in both a bodily-lived and spatial existential sense.
Family Businesses Dynamics
This engaging book reveals how and why family relations influence the dynamics of family owned businesses. The author examines the relevance of role and identity to the strategic development and the succession process of family businesses. She explores the individual and organisational implications of these roles and identities at different stages in the family and business life cycles.
Read more »
External link, opens in new window.
Social Innovation of New Ventures

This book provides insights into how new ventures in emerging economies and developing countries generate social innovation. It showcases new forms of business and how they are different from traditional business models. With increasing drive for innovation in emerging markets and lack of knowledge of how these markets work, this book enriches existing literature by looking at how such businesses in developing economies break new ground in a daunting, resource constrained environment. The book examines successful individual entrepreneurs, social relationships, product innovation, processes, systems and markets through cases. It navigates across key theoretical elements including individual initiative-taking, agency, and opportunity contexts.
Understanding Entrepreneurial Family Businesses in Uncertain Environments
Understanding Entrepreneurial Family Businesses in Uncertain Environments, the third volume in the STEP series, is uniquely centered on familial entrepreneurial activity in Latin America. The contributions, based on empirical evidence and an overall theoretical framework, focus on practical learning in addition to the advancement of scholarly knowledge.
Read more »
External link, opens in new window.
Moral Human Agency in Business: A Missing Dimension in Strategy as Practice
In recent years, corporate accounting scandals have received considerable media attention, raising concerns about unethical practice in the business world. Faced with a decline in society's trust in business, research into the ethics of organisations and their leaders is now of critical importance
Read more »
External link, opens in new window.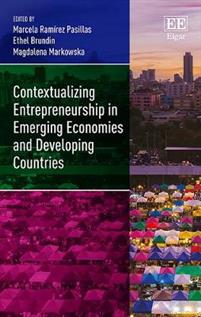 Contextualizing Entrepreneurship in Emerging Economies and Developing Countries
Entrepreneurship in emerging countries presents us with a unique set of working attitudes, modes of thinking, social practices and processes. This book explores these characteristics, focusing on the conceptualization of entrepreneurship 'in-between'. It highlights top-down and bottom-up initiatives as well as driving forces for entrepreneurial activities in emerging economies and developing countries, presenting the diversity, nuances and multiplicity of facets of relevant but unexplored contexts that we need in order to expand our dominant and traditional understandings of entrepreneurship
Read more »
External link, opens in new window.
Entrepreneurship and SME Management Across Africa
This book focuses on issues related to entrepreneurship and SME management on the African continent by providing insights from different conceptual, empirical and case studies. In doing so, it focuses on context-specific challenges for conducting entrepreneurial activities or business endeavors in smaller firms in the African continent. The book responds to calls for more research about African businesses given the acknowledgement of scholars, students and policy makers around the world who realize the increasing and growing economic importance of the African continent.
Read more »
External link, opens in new window.
Management Challenges in Different Types of African Firms
This book focuses on management challenges in different types of companies, ranging from small to large, from private to public and from service to manufacturing in the African context. With empirical data from countries as diverse as Rwanda, Kenya and Ethiopia, it discusses the increasing economic importance of the African continent, covering relevant topics on sustainability and environmental issues, exports, logistics, HR issues, innovation and financial reporting. Through different conceptual insights and empirical case studies, the research presented serves as a useful resource for academics, students, and policy-makers interested in in-depth studies on management challenges in Africa.
Read more »
External link, opens in new window.